Carrier Air Conditioning Systems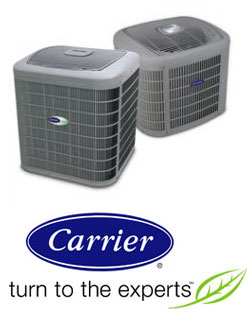 For over 100 years Carrier has been designing and making state of the art air conditioners capable of keeping your home cool on even the hottest days of summer. These AC units are among the most durable and easy to use on the market, supplying homes with energy efficient technology without sacrificing cooling strength. Because of Carrier's dedication to maximum cooling, energy efficiency, and system reliability, here at Service Doctors we always offer a full line of Carrier air conditioners and Carrier air conditioner service Virginia, Maryland and Washington, DC area customers.
The Infinity Series
The Infinity Series central air conditioners are engineered to be the best. The two–stage 24ANA1 model achieves a SEER rating up to 21. When combined with the advanced Infinity System, it is our most energy–efficient traditional heating and cooling system, based on stringent ARI cost standards.
Call us any time to learn more about the high quality and energy–efficient Carrier AC models that we offer.