HVAC and Plumbing Services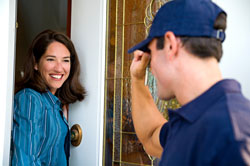 Service Doctors provides exceptional customer service, professional advice, and superior HVAC and plumbing services to all of our Washington D.C. area customers. Our service technicians are always on time and get the job done right. We'll make sure you're satisfied with all of our services, and our qualified technicians want to help you out in any way they can.
Our HVAC technicians are highly skilled and trained professionals who keep up to date with the latest industry technology to provide you with the best services possible. Our technicians are required to have a background check and periodic drug tests to ensure your safety. We always treat your Washington DC area home with respect, and we never leave a mess behind.
Along with our quality installation services, we provide routine maintenance for HVAC, plumbing, and indoor air quality systems. For emergency repairs, there's no one better than our qualified technicians to get the job done as quickly as possible. Service Doctors also offers free estimates for any HVAC or water heater replacement service.
Contact us at any time if you have questions or would like to set up an appointment. We're always glad to hear from our customers, so call now!
REQUEST A SERVICE CALL FROM A CERTIFIED TECHNICIAN NOW!