Why Use Payne Heat Pumps?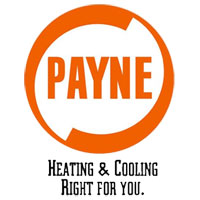 At Service Doctors, we offer a wide selection of Payne heat pump service and maintenance in Virginia also to the entire Washington, DC area . If you choose to install one of our high–efficiency Payne heat pumps, we'll help you select the most efficient and affordable model for your heating and cooling needs. Don't hesitate to call us if you'd like to know more about how Payne heat pumps might be the solution for you.
High Efficiency Payne Heat Pumps
The PH15NB unit offers the highest efficiency of all the Payne models, with 15 SEER (Seasonal Energy Efficiency Ratio) cooling and 8.2 HSPF (Heating Seasonal Performance Factor). This model also features Payne's signature deluxe dense grille for greater protection of the unit's outside coil.
It also cools with chlorine–free, R–410A refrigerant rather than the harmful l R–22 refrigerant in most of the older model heat pumps. Payne's PH15NB heat pump is attractive, designed for minimal environmental impact, and it's durable and built to last.
If you want to know more about these energy–saving and quality Payne products, call to speak with one of our heat pump experts today!